Loan Pricing Benchmarking
Pricing Service
Benchmark your performance
Manage commercial loan pricing with real-time precision and monthly benchmarks.
In any type of economy, it all comes down to how you price your loans. Informed by the industry's most robust pricing trends database, the AFS Loan Pricing Service gives you a unique combination of market data, monthly reporting, and consulting services to maximize your commercial loan pricing practices.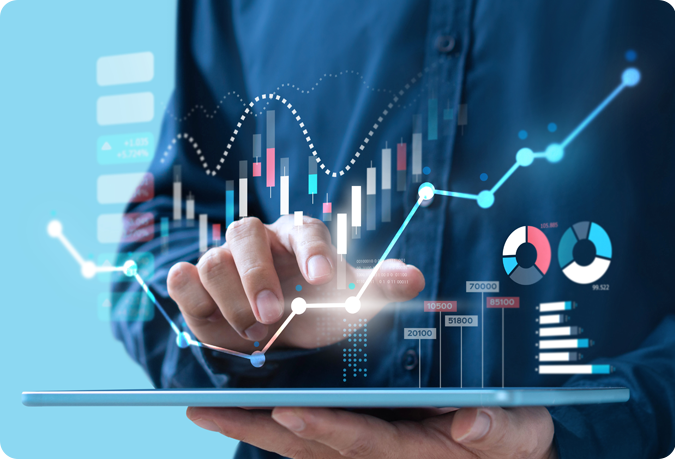 The most robust and timely database in the industry.
The strength of our competitive loan pricing information begins with the depth, breadth, and reporting cadence of the AFS Pricing Database, including:
Robust Database

Independently verified, regionally representative, and statistically significant in identifying risk-return opportunities.

Monthly Trends and Content

Expertly curated data and analysis on an opaque lending market.

Ability to Easily Segment

Data can be viewed by size, geography, loan type, and many other segments to easily compare credit performance.
Optimize loan pricing using the AFS Pricing Dashboard's monthly, curated data.
Powered by the AFS Pricing Database, the AFS Pricing Dashboard enables analytics for segmentation and drill-down on upcoming renewals, new/renewed deals, and pricing performance, including an AFS database query capability for industry peer comparison. Market data can be integrated into selected reports.
Access to this web-based reporting capability is through the AFS Hosted Private Cloud.
Get timely insight into your institution's pricing decisions with the customizable Pricing Guidance File.
Designed using key drivers of price sensitivity, the Pricing Guidance File is an invaluable tool to feed pricing models, set pricing ranges/targets, and recalibrate commercial loan pricing minimums or guidelines.
Keep abreast of market trends with the AFS Commercial Loan Pricing Trends Newsletter.
This monthly publication reports the latest trends in commercial loan characteristics. Based off the AFS database, the newsletter examines loan growth, new and renewed volume, spread pricing and fee performance for commercial vs. real estate loans, participations vs. bilateral loans, and many more stratifications.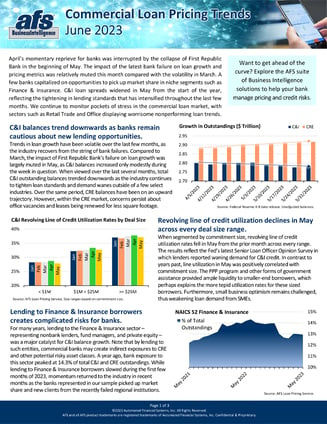 "The only publications my people read more than the Wall Street Journal is the AFS
Commercial Loan Pricing Trends Newsletter to keep on top of industry trends."
Additional insights from industry-recognized experts.
Drawing on the most powerful benchmarking analytic and reporting services available, AFS Business Intelligence provides newsletters and quarterly webinars that provide insights and tactics critical to navigating the market's constantly evolving drivers.
AFS publishes the AFS Commercial Loan Pricing Trends newsletter monthly, reporting the latest trends in commercial loan characteristics.
AFS hosts a quarterly webinar titled "Pricing Fundamentals, A Review of the Commercial Lending Landscape," where we examine these trends in commercial loan pricing.
Get in touch
Get to know AFS and how we can help grow your business.