transforming commercial lending
Solutions
the only solution you need
The Modern Digital Solution for Commercial Lending
We transform commercial lending with AFSVision, the fully integrated, digital solution that will enable your omnichannel strategy and modernize how you manage your portfolios—from origination through servicing and beyond.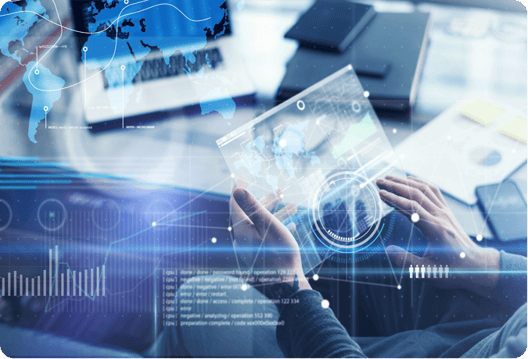 The agile solution for the 2020s and beyond.
Years ahead of our competitors, our flagship solution, AFSVision, provides the only commercial lending system that is designed to be at the center of your customer's digital experience, supporting your end-to-end, omnichannel strategy with real-time access and built-in APIs.
AFSVision's real-time, fully mobile and digital commercial lending platform improves your speed of response to:
Client requests
Credit approval decisions
Risks and exposures
Market fluctuations
Industry trends
Regulatory demands
"AFS is an industry leader in providing commercial lending system solutions. The AFSVision platform will help Huntington continue to innovate to best serve our customers with the flexibility to meet changing customer needs now and in the future. We appreciate AFS' partnership and commitment to excellence in serving our customers."

John Largent
Executive Vice President and Commercial Operations Director

"AFS has a singular focus on commercial lending and a proven track record of delivering on time and on budget. We look forward to AFS providing us with the agility we need to efficiently enhance client servicing and experience"

"AFS was not just a vendor and trusted advisor but a true value-added partner. AFS did what they said they would, and at the cost they said they would. At no point did anyone on the project lose sleep over AFS."

Joel Hill
Past Head of Commercial Credit Operations
supporting your strategy
Why AFS?
Our singular focus on commercial lending brings strategic clarity, continuous innovation, and unsurpassed experience in offering clients the modern solutions they need to compete.
APIs

AFSVision includes an extensive set of existing, rich RESTful APIs and DIY APIs to integrate with internal and external systems, creating a seamless end-to-end experience.

Workflows

AFSVision's powerful, imbedded workflows guide work throughout the loan lifecycle, with flexibility to respond to your shifting priorities, changing timelines, and market demands.

True Real-Time 24/7

A true real-time, on demand, digitally enabled solution, AFSVision provides up-to-the-second, accurate portfolio data to enable better decisioning and exceptional customer service.

Controls

AFSVision has imbedded reporting tools to help quickly and easily get a precise overview with drill-down capabilities on your entire commercial lending portfolio.

Cloud Native

AFSVision's cloud native, cloud agnostic design provides the robust capabilities is containerized, scalable, and secure by design—on the public cloud or the AFSVision Hosted Private Cloud.

Scalability

You can't outgrow AFSVision. Designed to scale horizontally and vertically, AFSVision provides the access and processing capabilities you need.

Standard Product

AFSVision is designed to be a standard, maintainable, and configurable solution, reducing overhead, complexity, and barriers to growth and technology evolution.

Proven

A reliable and innovative partner for 50+ years, AFS has a proven track record of delivering on commitments—on time and on budget.
innovative features
There's always something new to discover with AFSVision!
Take a look at these innovative features, and see how AFSVision is constantly evolving to support your financial institution.
Learn how AFS can support your business goals.