Real-World Benefits
Real Benefits, Real Results
Quantifiable and Real-World Benefits
Efficiency ratio
improvement
Revenue increase improvement
Reduction in cost per loan and operating costs
Reduction in time to close and fund a commercial credit
Results with certainty
AFSVision is the only proven solution for your credit and lending modernization.
With AFS, you can be certain of our 100% focus on commercial lending, with a steady and consistent ownership, a best-in-class solution that requires no customization, and continuous investment in a proven product! There's no need to look anywhere else for a partner and a solution to transform your commercial lending.
From local to global financial institutions, AFS solutions provide these key elements you need to compete in today's digital lending environment:
One system for all lines of business
Complete lending and credit lifecycle management
End-to-end integrations for your omnichannel, digital strategy
Cloud-enabled technology for deployment options
Real-time, 24/7, anywhere access to your entire portfolio for better/faster decisioning
Multicurrency and multilingual capabilities
The agility and scalability to support an unlimited number of products, loan types, and volumes
Integrated reporting tools for consolidated management-information reporting
Proven execution, flexible implementation, and scalable project management
Dedication to innovation and market leadership to stay ahead of market headwinds
The industry's premiere assembly of financial and technology experts
A dedicated partner for success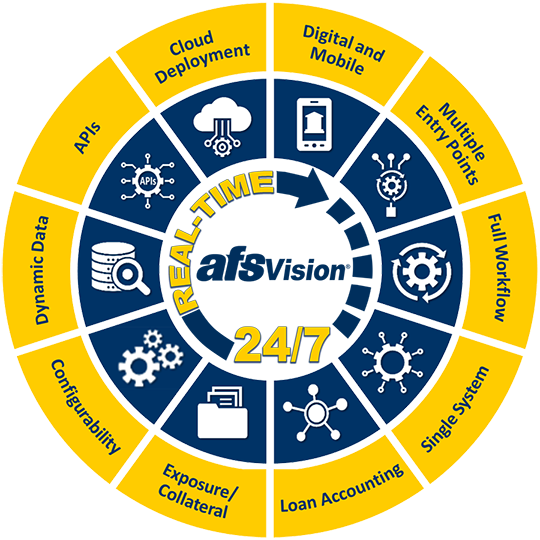 Real-World Success with AFSVision.
AFSVision is one fully integrated, digital system designed for the demands of worldwide credit and commercial lending—from origination through servicing and beyond.
Get in Touch
We want to help you reach your business goals.