Make the Connection: Commercial Banking and Real-Time Payments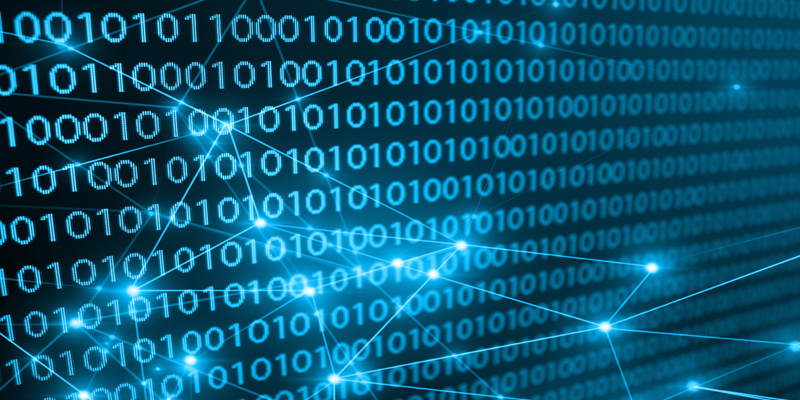 The concept of connectivity is a defining proposition of the digital age of banking. Lines of business and systems can no longer operate as stand-alone entities, but need to be all connected in order to better serve a new customer-centric universe. In order to give customers the immediate, "anytime anywhere" service they demand, systems must interact with and support each other in real-time, providing up-to-the-minute data, information, and analysis.

Banks can no longer see themselves as selling individual financial products to their corporate customers, but rather as providing value-added services through a digital ecosystem such as the one pictured here. While each element has its own product or service to provide, what will differentiate a bank from its peers is how effectively each element works with the others to form a symbiotic delivery system where the whole is greater than the sum of its parts. A good ecosystem will have a number of critical features—cloud-based, digital and mobile delivery, real-time processing, and APIs and web services with standards-based connectivity.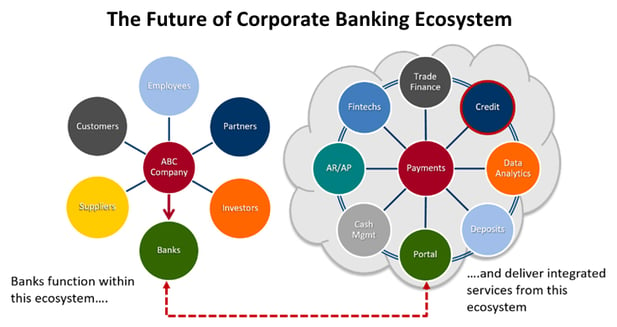 Ensuring Connections through Real-Time Payments
Payments are, by their nature, at the center of any system. They're the overwhelming factor in system integrations, workflows, data flows, and access to corporate systems like cash management, loan servicing, trade finance, and wealth management. Think about all the many transactions, interactions, data flows, and other activities that happen in the course of a banking day—the predominant activity that is behind them, drives them all, and is the subject matter of most financial data reporting, is payments.

In order for this to work, payments need to be true real-time payments (RTPs). All these systems will need to be able to handle RTPs, or the value of the whole ecosystem breaks down for its customers. No longer can systems be evaluated on their technological functionality in isolation, as if they operate in a vacuum. The question banks are asking when evaluating a new commercial lending system is no longer just "how well does it perform accruals," but "how well will it integrate into our ecosystem."

Payments represent the core activity of banking, in terms of both volume and value. Because of this, payments, and especially real-time payments going into the future, will be the lifeblood of a digital banking system that delivers a superior customer experience—one that is immediate, and personalized. Increasingly, banks are seeing the value and benefit of incorporating real-time payment capabilities into their corporate banking systems and operations.

Connecting RTPS and Commercial Lending
While they have caught on in "day-to-day" transaction-level thinking, the concept of RTPs' role in commercial lending has only just begun to catch the imagination of the commercial lending industry. But as a critical part of a bank's ecosystem, any worthwhile commercial loan system will have to operate in tandem with the other systems that serve corporate banking in order to thrive and survive in today's competitive world.
As broader, more integrated ecosystems are taking over banking architectures, there are new expectations and requirements for connectivity on individual systems.

All of that has to happen in a digital, mobile environment that is in the cloud, interconnected, integrated with APIs, and operating in real-time. In this type of ecosystem, payments are likely to be the function that will drive most of the activity and interactions, and those payments will naturally need to be real-time payments or else the ecosystem will come to a standstill.

Commercial lending can enhance and expand the value proposition of real-time payments. The role and benefit of commercial lending as a critical contributor to a payments-driven ecosystem increases the flexibility and value proposition to the customer, with appropriate integration, linkages, and consistent data formats among the systems.

Will real-time payments be a game-changer for commercial lending? Probably not, but they will make commercial lending a more inclusive and better-integrated player by providing a more holistic and flexible value proposition to customers as a funding source, and potentially a significant source of revenue as commercial loan accounts become more engaged in the everyday transactions and payment flows of working capital.

Preparing for Real-Time Payments
Just as we have seen that the need for a holistic, enterprise-wide digital transformation in commercial lending systems is no longer an option but a necessity to remain competitive, we can see the same will be true of being able to offer and integrate RTPs into bank ecosystems. The recognition that a real-time payments system will be requited has taken off in the past year or so, especially in the U.S., propelled by the momentum of digital transformation and accelerated by the COVID-19 pandemic. In order to remain competitive in an increasingly narrowing field, banks must be able to:

Process transactions that happen immediately or nearly immediately, no matter whether it's coming from next door or halfway around the world.
Notify both parties, payer and payee, confirming that the payment is completed.
Make funds available immediately—the payee's account receives the funds seconds or minutes after it's made, and can spend the money seconds or minutes after that.
Ensure that the payment is certain—that means it's final, settlement is completed, and no one can reverse or take it back.
Provide the service 24/7/365 so that it genuinely is real-time.
So what can banks be doing in the near term to become better prepared for the future of real-time payments? Here are critical steps banks can be taking now:

Develop or perfect a payment strategy to cover real-time payments.
Define how you want to incorporate real-time payments into your payment services.
Research and identify what RTP network(s) you expect to employ, and your criteria for choosing them.
Identify which RTPs benefits are key to your organization and customers—speed, convenience, security, etc.
Become conversant with ISO 20022 as the new standard for payments messaging, and the many data enhancements that can lead to new revenue opportunities.
This is an opportunity to make payments a good experience for the customer, with new features and services layered on top of the basic payments. The most critical part of that delivered experience is the ability to act in real-time. The system will have to do its processing in real-time and, given the important role we believe payments are going to have in the new corporate banking ecosystem, it will absolutely need to be able to manage real-time payments. So the most important step is to make sure that when planning your digital transformation to support RTPs, you choose a system designed for real-time, straight-through processing. With that element supporting all the others, you'll improve your customers' experience and help you realize your growth goals.